Workshops
MÁIRÉAD NESBITT CELTIC VIOLINIST L.T.C.L.,L.R.A.M.,T.T.C.T.,DIP.C.S.M.,PRESENTS
A 2 hour store performance and workshop.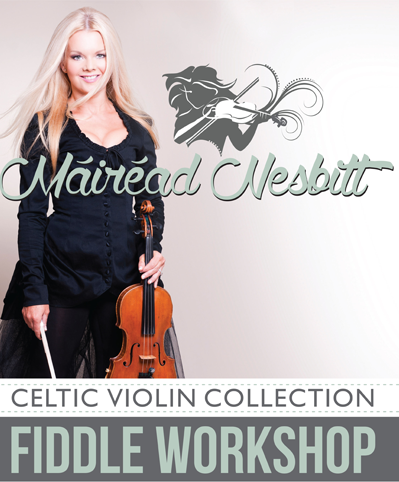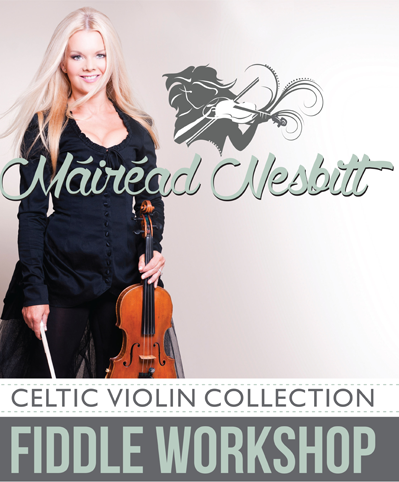 For more than a decade, Emmy and Grammy nominated Celtic Violinist Máiréad Nesbitt has enchanted millions of fans around the world as the Celtic Violinist and founding member of the globetrotting phenomenon Celtic Woman, Lord of the Dance, and most recently Rocktopia debuting on Broadway and The Way of the Rain in Carnegie Hall.
Máiréad has launched a signature violin line, Máiréad Nesbitt Celtic Violin Collection and is available to make workshop appearances at your store.
Máiréad's appearance will feature her introduction where she will talk about her start as a student in Ireland, how her career took off and her most memorable achievements. You will learn about the history of Máiréad's personal violin and why developing a European violin collection was important to her.
A performance will follow and the workshop. Please see a sample below. Máiréad will talk about her different styles of playing and discuss the different bow holds that she uses for different styles.
Workshop attendees will be able to come up and join Máiréad to play some tunes. She will give some pointers, suggestions and encouraging constructive comments on whatever they select to play. There will then be a Q&A with Máiréad and all attendees.
The workshop will conclude with an introduction and description of the Máiréad Nesbitt Celtic Violin Collection and attendees are encouraged to try the models available. The group with then play a piece all together with Máiréad that they will have got in advance and at the workshop event to close out the workshop.
Throughout the workshop there will be giveaways from Máiréad's accessory collection and photo opportunities with Máiréad also.
The first 10 people to sign up for the workshop will receive a free personalized Máiréad Nesbitt rosin.
Máiréad's appearance is free of charge if 4 or more violins are purchased at wholesale to be sold at your store. Máiréad will publicize the appearance , as well as the violin line being carried in your store on her website shop page, and socials. If you do not want to make a purchase outright, Máiréad will appear in your store for a small honorarium and travel expenses. Your guests will then receive a code to purchase violins online through her site www.maireadnesbittviolin.com. The consumer will also receive a free set of Thomastik-Infeld strings with their purchase and your store will receive a 5% commission on each violin sold.
SAMPLE 2 HOUR MÁIRÉAD NESBITT STORE WORKSHOP
15 mins; Introduction/ PERFORMANCE
30 mins; Intro to the VIOLIN LINE  explanation of each violin.
15 mins; HANDS ON TRYING VIOLIN LINE Get to know ability of audience participants with some Q&A / let them try the violins for hold for duration of the workshop if desired.
15 mins; IRISH MUSIC DISCUSSION on tunes, the pros of learning by ear & being able to read / styles / different time signatures of dance tunes.
15 mins; Introduction to BOWING / Stance. Q&A.
15 mins; Introduction to ORNAMENTATION. Q&A.
15 mins; PLAY TOGETHER the tune on the sheet of music that will be available at the event link in advance and also on the day to close out the workshop.
Please contact info@bostonmusicmanagement.com for availability and pricing.
---
THE OPTIMUM PERFORMANCE with THE MÁIRÉAD NESBITT CELTIC VIOLIN COLLECTION.
WITH SPECIAL GUEST KATHLEEN NESBITT T.T.C.T.ADV.,; EDUCATOR & LECTURER ON T.T.C.T. AT CULTÚRLANN NA h'ÉIREANN, SCOIL ÉIGSE AT FLEADH CHEOIL NA h'ÉIREANN, FESTIVAL INTERCELTIQUE DE LORIENT & AUTHOR OF 'FIDIL' FIDDLE TUTOR/CD.
A two day program encompassing;
-Exploration of practice techniques;
Practice techniques are key components to mastering sections and whole pieces of music.
Different patterns & more effective skills used in sections of the piece of music will give a seamless line that will sound smooth and pleasing to both the student and audience member alike.
Simple more effective ways of recording your practice and using some metronome and voice record apps will also engage the student, have more effective and enjoyable practice and encourage creative individual expression.
-Memorization;
Memorization of music allows the student to have moments away from the music stand and sheet music, freeing themselves away from the constraints of interpreting music with just their eyes. This is a common restraint in the learning of Classical music especially. Memorization activates instinct, leadership and self awareness. Material will be provided in advance solely for this from the FIDIL tutor by Kathleen Nesbitt and other sources to  enhance the other sections of 'The Optimum Performance".
-New Stylistic Techniques and Ornamentation;
Stylistic techniques are elements that are of great benefit to all students.
These techniques for the left and right hand will be used to enhance the material that is sent to the workshop student in advance to download.
Ornamentation is one of the special stylistic elements that elevate your music.
The technical elements of ornamentation for the left hand in melodies will bring a whole new level of 'feeling' to your music.
-Improvisation;
Improvisation is a key component to developing a successful, lifelong relationship to your instrument. When young musicians experience this freedom of expression, it cultivates their spontaneity and fosters creativity.
-Movement;
Movement is an essential component to a natural performance that is both enjoyable for the student and for the audience member. When students are given these key elements of movement that is natural to them, this enhances their memorized music. When the student is more expressive, it brings the performance to a whole new level of communication between the student and audience member.
This instills confidence in the student, promotes an awareness of space and an utter enjoyment of the music that they are performing.
DAY 1
-Introduction
A 15/20 min program played by Máiréad and special guest Kathleen Nesbitt on violins from the Máiréad Nesbitt Celtic Violin Collection.
Students will be encouraged to join and communicate through the language of music in their own way. This will be done through material sent in advance and also through material that the student may want to work on themselves with Máiréad and Kathleen in individual tutoring as well as group playing.
Students will get the opportunity to play the violins from the Máiréad Nesbitt Celtic Violin Collection through the individual playing done and getting to know the range of the students.
In the group playing on Day 1, each topic will have a tune to reinforce that topic.
Students get a chance to play together and bond as a collective through the melodies and enhancing where possible with harmonies.
This end of day experience of group playing happens both days and instills a feeling of confidence.
A Q&A section will be throughout the day allowing the students and educators to ask questions and discuss various issues and topics.
Students will improve their playing, learn to analyze, self assess and have fun doing so, going through the sections of  "The Optimum Performance" enhanced with tunes and techniques from the tutor/cd FIDIL by Kathleen Nesbitt.
DAY 2
Warm up will commence through yoga inspired movements by world renowned violinist Sir Yehudi Menuhin personalized by Máiréad in the first movement section.
Spatial awareness is cultivated in the second movement section of "The Optimum Performance".
Adding the movement component to the music encourages students to express their unique creative energy fully and openly.
It encourages the student to become more 'fluid' and natural in their performance.
It cultivates a healthy body image both onstage and off and increases self-confidence.
Students will connect with their own unique creativity and self-expression and begin to identify and create their own unique performance style through the first movement section of  "The Optimum Performance".
Máiréad and Kathleen and the students will then start identifying music that they want to focus on for individual performances and group performances.
Pieces will incorporate music sent in advance, music worked on from Day 1 and music that the students want to improve on and perform.
Individual performances will be prepared and heard empowering the students to express themselves in their own unique way through their music that they have worked on.
Máiréad will bring violins from her Celtic Violin Collection for students to show the skills that they have acquired during the event if they so desire.
These performances are a very rewarding process for all the students instilling confidence, and a passion for creating their own performances.
A Q&A and discussion encouraging students and educators to express their own personal and unique stories is always very enlightening followed by a group performance at the end of Day 2 bringing everyone together in a unified way with a very positive sense of achievement.
Please contact info@bostonmusicmanagement.com for availability and pricing.